Our Favourite Crowd-Funded Gadgets – January 2020
To mark the start of the New Year, we've rounded up some exciting devices and gadgets that are currently being featured on the top crowdfunding sites. If you want to be inspired by some seriously innovative products, read on.
The top crowd-funding gadgets
LynQ – Identify your location, even without your smartphone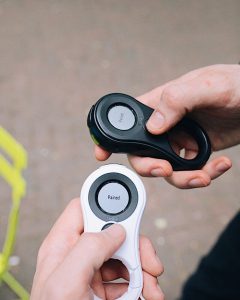 (Image credit: LynQ)
Going off-grid is a thrilling experience, but wandering in the wilderness without any connection to civilisation can be daunting (not to mention dangerous). LynQ provides the solution, enabling users to track their location anywhere, in real time, without the need for a smartphone, WiFi or any other network coverage.
With a broad-range signal of around three miles, plus three days of battery life in a single charge, it's a handy piece of equipment for hikers. It can also be used in other scenarios. For example, it allows real-time tracking of up to 12 people, which means friends can find one another at a festival, without having to rely on communicating with their phones. Children can also take LynQ with them on their way back from school, which means parents can easily keep an eye on their whereabouts.
The campaign raised an amazing £1,357,830, with over 8000 backers. As such, LynQ is now in the production phase, and should be available to buy soon.
Fingerprint Padlock – the key is your finger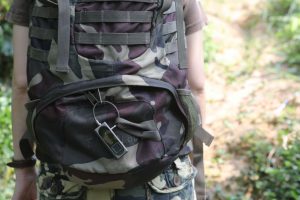 (Image credit: DYX)
Padlocks, while useful, can be problematic. It's all too easy to lose the key, or forget the code to unlock them. That's where Fingerprint Padlock comes in. This clever electronic device relies only on your fingerprint to lock or unlock itself, and a single charge lasts for around a year of regular use (or up to 5,000 locks and unlocks).
In addition to being a padlock, the gadget also functions as a personal alarm. There's a little button on the side, and one press activates a 110DB alarm, which immediately alerts surrounding people to your situation.
Fingerprint Padlock's campaign only has a few days remaining, and has already gone over its initial target by a significant margin.
VIEWPT VR180 NANO 4K VR – making livestreaming easy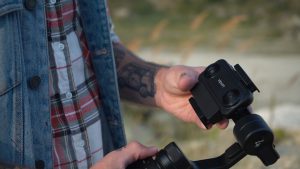 (Image credit: VIEWPT)
The VIEWPT VR180 NANO 4K VR device makes livestreaming easy, even if you're not a technology expert. It attaches to your smartphone, then, using a 4K camera, immediately streams your video footage at 30 frames per second. This enables users to share their live videos with whoever they want; such as followers on their blog, or family and friends on the other side of the world.
The device works with Google VR180, and can be mounted on a drone or selfie stick, as well as your phone. It comes with a generous battery life (around an hour of filming), and is still fully operational when plugged into its USB-C or lighting port.
Vloggers and keen video-makers will be pleased to know that VIEWPT VR180 NANO 4K VR is available to pre-order from Kickstarter for $99.83.
Boomerang V2 – keeping your bicycle safe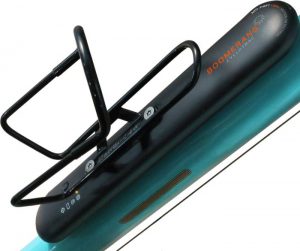 (Image credit: Boomerang)
The Boomerang V2 is rated by some police departments as the most effective way to protect your bicycle against theft. The gadget is mounted securely to the bike with tamper-proof fixings, then as soon as the bicycle is stolen, the accompanying app sends the user a text alert. The Boomerang V2 device also uses GPS to show exactly where the bicycle is, in real time.
There are some other clever features too. For example, geofencing can be enabled, which means the alarm will only be activated if the bike is removed from a designated area. It also comes with a panic button, which alerts your emergency contact list if you need help.
The campaign is now complete, and hundreds of people have backed it. Now, the company are in the prototype phase, and should be moving into production soon.
Lua – the plant that's a pet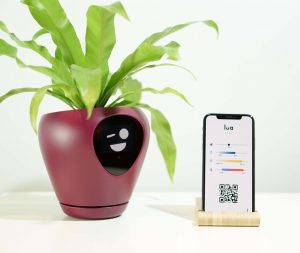 (Image credit: Lua)
Smart monitors are a great way to check the health of your growing plant. However, they traditionally look rather dull, and focus on functionality, rather than style. Lua is different. Like a conventional monitoring system, it checks that the plant has everything it needs to thrive (water, nutrients etc.). However, Lua's sensors activate 15 animated 'emotions', which are then displayed on the front of the 'plant pot', and via the accompanying app.
This inventive idea makes it easy to see how well your plant is growing, and it also transforms the monitor into a loveable character; something that's likely to appeal to children. The campaign raised over £190,000 in total, and Lua has already featured in numerous prestigious industry publications, such as Stuff and Daily Web.