Our Favourite Crowd-Funded Gadgets
Each month, we'll be delving deep into the crowd-funding sites, to find the most exciting gadgets that are being featured right now. Here's our latest selection of innovative, thought-provoking tech for you to explore.
The top crowd-funded gadgets
Solidmaker – the latest desktop 3D printer.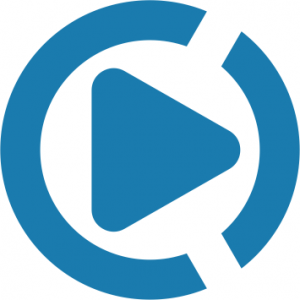 Image credit: SolidMaker
Desktop 3D printers are nothing new. Indeed, some notable companies already offer high-performance 3D printers for reasonable prices. However, SolidMaker, which uses laser stereolithography, is pretty exciting, and it's on offer for a low cost.
It has a high printing resolution (excellent for hobbyists looking for a precise finish – or for companies creating prototypes), and is also faster than other 3D printers on the market. Enthusiasts will also be pleased to note that third-party resins can be used, so you're not limited to the company's own printing materials.
3D printing is emerging as one of the most significant technological developments in recent years, and if you're keen to explore its potential further, this is a good place to start. At the time of writing, it's already exceeded its goal, but is still open to backers.
Door Pi – Dementia safety door monitoring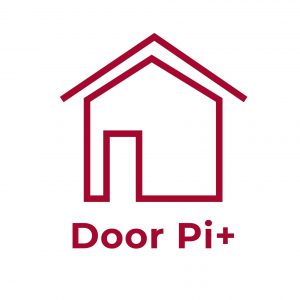 Image credit: Door Pi Plus
We love to see young entrepreneurs sharing their inventive ideas. Freddie Howells was inspired by his Great Aunt Pat, who had trouble remembering who had visited the house, and often let cold-callers in, believing them to be people she knew.
As a result, he went on to design Door Pi Plus, a system that informs the dementia sufferer's family who has called on their loved one. Once fully developed, it'll feature a webcam, a motion sensor and an intercom. Freddie wants to use the funds to polish the existing prototype, making it a fully workable device for the home.
Rather impressively, Freddie has already won awards for his work, such as the Junior Engineer of the Year at the Big Bang Competition, the Hardware Category of 'Coolest Projects UK', and the Siemens Digital Skills Award. He's also a finalist for the BT Young Pioneer of the Year. So far, he's raised close to a third of his £3,000 target.
Pivo – Taking phone photography further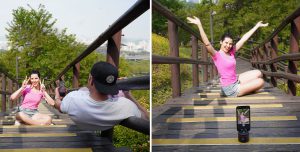 Image credit: Pivo
Pivo is one of the cleverest smartphone gadgets we've seen in a long time; which in this saturated market, is really saying something.
It's an interactive pod, which, when your phone is inserted into it, swivels to track the person being filmed. This is invaluable to those who film their own vlogs or YouTube videos, for example. It features face recognition and action tracking; and also has some fun 'creation modes', such as multiplying yourself several times in the footage, or creating a motion time-lapse.
Unsurprisingly, this gadget has blasted through its original goal, and has now raised over $1 million in funding. If you're interested, get in quick, as the campaign won't be running forever.
TruVision – Explore your home before buying it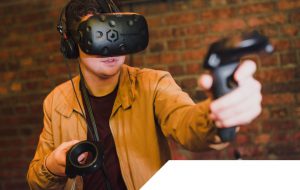 Image credit: TruVision
This Plymouth-based start-up has taken VR technology and pushed it in an exciting new direction. The TruVision headsets use architect's drawings to create fully immersive viewing experiences for potential buyers; enabling them to 'step into' the house and explore each and every room.
Even better; the headset acts as a trouble-shooter. Problems are easily identified before construction even begins, which minimises costs in the long-run. For example, if the kitchen sink is badly placed, or there's a wall that makes a room feel too small, this can then be adjusted by the architects, to the client's exact requirements.
Although the campaign is already fully funded, it's still worth examining, as it showcases exactly how far VR gadgetry has come.
Blackview – The unbreakable smartphone?

Image credit: Blackview
Even the most careful owner's smartphone isn't invulnerable to breakage or damage. All it takes is one accidental drop, and the phone is damaged beyond repair (which is why insurance is always a good idea).
Blackview BV9500 Pro seeks to address this problem, with a smartphone that's been labelled as 'indestructible'. It's apparently shockproof, dustproof and waterproof, and can even capture images and videos in seawater. High-profile sites like Techradar.Pro and ZDNet have rated it highly, and as such, it's already smashed its target.
Although it's no longer available in this campaign, it's worth keeping your eyes on the market to see when the company will officially launch their smartphones. This is especially the case for those working in 'high impact / risk' industries, such as construction or fishing, for example.
Museum in a Box – Technology in education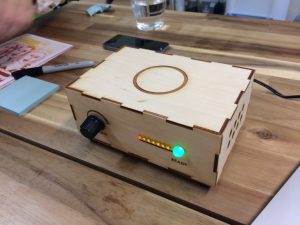 Image credit: Museum in a Box
Inspired by a museum handling collection, Museum in a Box uses NFC tech, replica 3D / 2D objects and Raspberry Pi-powered box to make historical objects come to life for children. This great classroom gadget narrates stories, plays audio footage and music, and even provides first-person accounts from people who have created the work.
This wonderful educational resource has already raised over £20,000, and is likely to be coming to a school near you in the future.