Tech Start-Up Focus – Circ
In this changing world, innovation is becoming increasingly important. This month, we're examining a dynamic tech start-up – Circ (formerly Go Flash). They're seeking to redefine the way people travel in urban spaces, while addressing environmental issues too.
Who are Circ?

Circ define themselves as an enterprise that is 'revolutionising urban mobility'. Their headquarters are in Berlin, Germany, though they've now got a presence in several major European cities. So far, they're one of the world's fastest-growing tech start-up ventures and are actively expanding their team at the moment.
Their concept centres around next-generation electric scooters, which can be rented out via an app, whenever the user needs to use one. The idea is to offer an eco-friendly alternative to driving or catching the train.
What sort of scooters?
The scooters developed by Circ are all electric, and are designed to be durable and easy-to-use. The 50-cell power pack means that each scooter can take travellers to destinations as far as 45 km away, and the kick-stand makes them easy to prop up against a wall when not in use. There's even a cup holder to ensure that the morning's take-away coffee doesn't get spilt, and a phone holder to let users chat to friends while on the go!
The scooters have a variety of safety measures too, which is important as they're used in busy urban locations. These include:
Headlights for late-night operation.
Front suspension for uneven surfaces.
Airless wheels for better grip on a variety of terrains.
Electric brakes which respond to the scooter's movements.
How does it work?
It's a simple system.
Step one:
In order to use Circ's scooters, the user must download the app from either the Apple Store or Google Play.
Step two:
Via the app, the user can see where the nearest scooters are to them. They can also use the app to unlock the scooter, by simply scanning it.
Step three:
After unlocking the scooter, riders can travel wherever they like, as long as it doesn't exceed the scooter's charge. The scooters are capable of running for long distances, so this wouldn't restrict the typical urban traveller.
Step four:
After the journey is complete, the user simply returns the scooter, then leaves a review via the app.
All scooter trips are fully insured (even in places where insurance isn't required by law). They can also be locked using the app, which means they can't be stolen by other people (even if the user wants to stop off to pop into a shop, for example).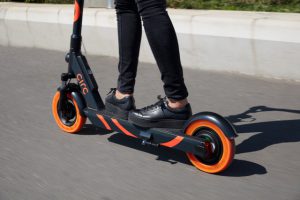 Who is the target audience?
This tech start-up is largely aimed at:
Commuters. Getting around in large cities can be challenging. Circ's scooters offer an alternative to hot underground trains, or crowded buses. They're also quicker than walking to work.
Students. Likewise, students can use the scooters to travel to their university campus, and avoid getting caught up in rush-hour traffic.
Sightseers. Tourists may also appreciate the scooters as a hassle-free way of travelling through the city. This method enables them to simply leave the scooter propped up somewhere while they visit an attraction, then collect it again on their way out.
At present, Circ operates in:
Germany (Berlin, Hamburg, Frankfurt and other locations)
France (Paris, Marseille, Lyon and other locations)
Switzerland (Zurich, Basel and other locations)
Portugal (Lisbon, Faro and other locations)
Belgium (Brussels, Ostende and other locations)
Austria (Vienna, Innsbruck and Linz)
Spain (Madrid and Zaragoza)
Italy (Milan)
Norway (Oslo)
Sweden (Stockholm)
Denmark (Copenhagen)
UAE (Abu Dhabi)
Why do they matter?
This tech start-up is seeking to resolve some of the major issues with urban transport. For example, congestion and slow traffic speeds are a serious problem for commuters, students and casual travellers alike. Circ's scooters are capable of weaving through the traffic, which speeds journey-times up. It also means fewer people travelling by car, which in turn should reduce the levels of congestion.
More importantly, they're also addressing environmental issues. Unlike other forms of transport, Circ's scooters don't emit harmful fumes, and they're a much more sustainable option for travelling in the city. If more people adopted this technology, air quality would improve overall – another key focus for urban locations.
Circ aren't the only start-up offering 'scooter-for-rent' services. In fact, scooters are big news in many other European countries; particularly Germany. However, their slick app, combined with the ability to lock the scooter when not in use, gives them a real head-start in the marketplace.