Mobile Phone Theft – How at Risk Are You?
Everyone knows that mobile phone theft can happen. However, most people don't realise just how common it is. According to a recent report, 446,000 handsets are stolen each year, which is a staggering 1,222 per day.
How much at risk are you, and how can you minimise those risks? Here's more information.
What Do the Statistics Say?
If you're young, you're at greater risk. Younger people are statistically more likely to have their phones stolen, particularly 18-21-year-olds. Women in this age group are at greater risk than men.
If you're older, you're at risk too. It's not just young people who are targets for thieves. Those in the 45-54 age bracket are also at risk and are 12% more likely to have their phone stolen than those who are 35 to 44.
Some phones are more desirable than others. Apple products are particularly popular, though rates of Apple-related theft have decreased in recent years. Approximately 10% are Samsung smartphones and HTC are also a popular brand among crooks.
There are theft hotspots across the UK. London is obviously a prominent location for mobile phone theft, but the place topping the charts for most cases of smartphone stealing might surprise you. Greater Manchester experienced the worst levels of phone-theft in the UK, followed by the West Midlands and South Yorkshire.
How Are They Stealing Your Phone?
Devious thieves have a variety of techniques to separate you from your mobile phone. Pickpocketing and 'snatch' theft (where your phone is quite literally grabbed from your hand) are still the most prevalent, making up 40% of all phone theft incidents.
However, moped-enabled crime is also on the rise, where the thief drives past on a moped and seizes the mobile phone from the victim's hand. Numbers of 'moped thefts' in London have increased thirty-fold in the space of five years, with 23,000 people experiencing it in the last year alone.
Carelessness is another major factor. In one survey, it was revealed that 44% of all smartphone users had their phone stolen after accidentally leaving it somewhere (for example, in a café), only to discover that it had gone when they returned. It's also risky to leave your phone on display in your car, even if you're only gone for a few minutes.
Festival-Goers Are a Target
Figures reveal that mobile phone theft is a big issue at music festivals. According to our report, five of the top festivals in 2016 saw a combined £173,663 of goods being stolen from attendees, with smartphones being the most stolen item.
It goes without saying that crowded, large-scale events are a haven for opportunist thieves and that you should always use your mobile device with caution in these types of location.
More Than a Financial Risk
It's expensive to replace your phone after it's been stolen, but the financial expenditure is just the start of it. If you use your mobile device for work purposes, this could put your entire company at risk. One survey recently found that 25.3% of serious data breaches in the workplace were caused by the loss of a mobile phone.
There's also the loss of more personal information, such as messages, notes, photographs, and videos. Even if you've backed these up on a hard drive, it's not pleasant to imagine a stranger having access to them.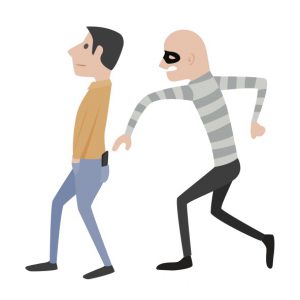 What Can You Do?
There are several steps you can take to reduce the chance of your phone being stolen.
Enable a pin code. At present, only 53% of users have a pin code protecting their phone. You might think that having a pin code won't make much difference, but if a thief sees you using a code to access your phone, it might make them think twice about stealing it.
Use a tracking app. Only 21% of mobile phone users have a tracking app, despite the fact that this can help you to see exactly where your phone has been taken to (which is very useful when catching the thieves who took it).
Take precautions. When you're talking on your phone in public, be aware of your surroundings. When storing your phone, don't just slip it into your jeans pocket or easy-to-access section of your bag – put it somewhere where it's harder to grab; such as an inner coat pocket or an internal pocket of your rucksack.
Get insured. Replacing a mobile phone can be a costly business, especially if it's the latest Apple, Google or Samsung model. At present, only a third of phone owners have insurance, while the other two-thirds have to pay hundreds to get a new phone. It's a shrewd idea to invest in some protection, and a small price to pay for better peace of mind.