Which Smartphone is Most Durable?
According to a recent study, the average person spends 24 hours a week on their smartphone. That's a lot of time spent browsing online, catching up on social media and talking to friends! As such, smartphones need to be built to withstand the rigours of everyday life, not to mention the occasional accident.
With that in mind, here's a run-through of some of the toughest, most easy-to-repair phones available right now.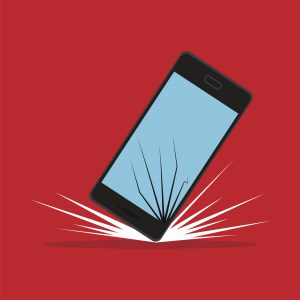 The Drop Test
It's all too easy to drop your smartphone, and in some cases, the impact can break the device completely. Tech blogger Tom's Guide recently dropped a variety of smartphones to see which one came out the least damaged (on both a wood and cement surface). The test was also repeated from 100 feet onto a tarmac surface.
Motorola's Moto Z2 Force came out as a clear winner, outperforming all the other models by a considerable margin. The LG X Venture and Apple iPhone X came in second and third position. However, Apple's iPhone SE struggled, with the screen cracking from a drop of just four feet.
The Toughest Screen
After impact, a smartphone's screen is usually the first thing to suffer; a fact that manufacturers are aware of. This year has seen some models adopting Corning Gorilla Glass, which results in a super-strong screen that also protects against oil, dirt, water and smudging. If you're looking for the most robust screen available, then look for phones that feature this technology, such as the iPhone 7, Galaxy S7 or Google Pixel.
Waterproof Phones
Most smartphones offer a good level of water resistance. However, some users have experienced problems while walking in heavy rainfall; not to mention those who have accidentally dropped their phones down the toilet. According to statistics, liquids are the second most common cause of damage to phones, with over a third of repairs being due to spillage or dropping into water.
If you're looking for a smartphone that can withstand a dunking, then the Google Pixel 3 or Huawei Mate 20 Pro are great options. They feature more effective nano-coating to keep water out, which is a big plus if you use your phone outdoors a lot.
Most Repairable
JerryRigEverything recently reviewed several of the latest phones and found that when it came to repairability, Google Pixel was a clear winner. While it's not necessarily advisable to attempt repairs yourself (particularly if you have no experience of working with mobile phones), it's an interesting video – you can view it here. He also discusses the durability of some of the more popular models.
Toughest All-Rounders
TechRadar ran a series of tests on several models of smartphone, then marked them based on:
Shock-resistance
Water- / dust-proofing
Durability in extreme temperatures
Ability to withstand vibration
They revealed the top phones that had undergone IP68 testing (to ensure they meet military-level standards for durability), which were:
AGM X2
Doogee S60
Ulefone Armor 2
Blackview BV7000 Pro
Zebra TC75x
It's important to note that these are seriously heavy-duty phones, offering more durability than the average user would require. However, if you work outdoors or in an environment where your phone regularly encounters extreme temperatures or impact, these may be the right handsets for you.
Which? Survey's Conclusion
Which? Ran an extensive survey at the end of 2017 to identify which of the popular smartphone brands was most reliable and least likely to break.
For the second year running, Huawei came out on top, with only 7% of their phones experiencing any issues in a two-year period. Only 2% broke completely within three years. As a stark contrast, 32% of LG phones developed a problem in the first two years of ownership, with 17% breaking in the first three years. That's a big difference.
Finding the Most Durable Phone
When purchasing a new phone, most people mainly focus on the features and how well they fulfil their lifestyle needs. However, it's advisable to consider durability too. Phone breakage can be costly (unless you're insured), especially if you need to replace the entire phone.
A recent survey found that people in the UK are spending around £680million each year on fixing their broken smartphone screens, with a third of all phone owners using a device with a smashed or cracked screen. On top of that, 57% of people said they'd lost photos or important files as a result of breaking their phones.
As such, it's a good idea to take durability into consideration. Think about how you'll be using your phone. Do you need it to withstand impact? Do you know that you can be clumsy at times, and might benefit from a 'drop-resistant' model? Ultimately, if you invest in a phone that's built to last, you'll save money in the long run.