What You Need to Know About Travelling with Sports Equipment
When you're going on a sports-based holiday, it's useful to know what equipment you're allowed to take with you, and how best to protect it while you travel. Insuring your trip is also another sensible idea, in case any problems arise.
Here's a guide, detailing all you need to know about travelling with skis, a snowboard, or any other sports equipment.
Common airline policies
It's important to keep in mind that most airlines have their own set of policies, and you'll need to check these before you depart. Here are a few of the more general rules:
Additional fees
You'll usually be charged a fee for bringing your equipment with you, and this fee typically only covers you one-way. Most airlines count all your gear as one set of equipment (e.g. skis and boots), but some don't. Again, it's vital to find this out before you travel.
Weight limit
There's often a weight limit on your sports equipment, but this is quite generous. Anticipate it being 23kg unless the airline specifically states otherwise.
Cheaper rates in advance
Sometimes, it's worthwhile purchasing extra bag allowance online before you travel. This is often cheaper; sometimes by as much as 70%. To illustrate the point, at the airport, an airline may charge up to £45 (one-way) for you to take your ski equipment. When booked a few days in advance online, this could be as little as £22, which offers good savings. Note that most extra baggage fees are non-refundable.
Classification
Most airlines classify sports equipment as skis, snowboards, hockey sticks, golf clubs, bicycles, surfboards, or fishing gear. However, note that hunting weapons do not fall into this category. If you want to take a gun or ammunition with you, you're limited to 5kg in weight, and need to seek prior approval from the airline beforehand. An additional fee may also be applied.
The costs of travelling with sports equipment
Every airline has different fees for sports equipment. Sometimes, members of airline clubs (e.g. British Airways' Finnair Plus platinum and gold members) can take their equipment for free. Some also require you to reserve a space for your equipment, around 48 hours before your flight.
Fees can vary, depending on the airline you travel with. For example, Ryanair charge £40 per item (one-way), or £35 if you book the baggage allowance at the same time as the flight.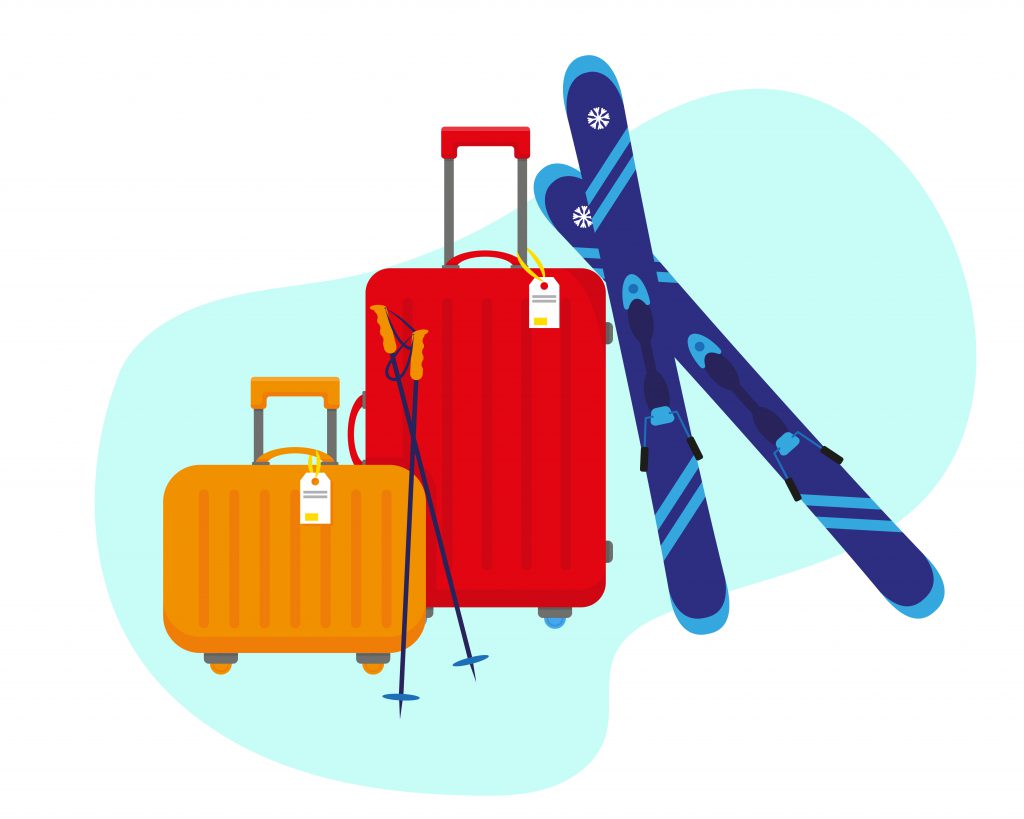 Examples of airline policies
It's useful to have an idea of what to expect when you're travelling with sports equipment. Here are a few examples of specific airline policies regarding winter sports gear (e.g. skis and snowboards).
British Airways
The fee you'll pay depends on the amount of baggage allowance on your flight ticket, plus how much other luggage you'll be taking with you. Sometimes, they permit travellers to take one skiing set free of charge.
Skis exceeding 220cm are classified as oversized luggage, and will incur a higher fee. Normally, sports equipment can be checked in on the day; however, if you're travelling with ten or more people, you'll need to give the airline prior notice. You can find out more here.
Easyjet
Easyjet lets passengers take their own ski gear for as little as £37 (one way). The weight limit is 20kg, which is a bit less than some other airlines. Boots can either be stored in the same bag as your skis, or carried in your cabin bag.
You're also permitted to pool the total weight allowance with your travelling companions, but no single item may weigh less than 32kg. There's more information on Easyjet's website if you're thinking of booking a flight with them.
United Airlines
Like many other airlines, United only accept one set of ski or snowboard equipment. If you're bringing your boots in a separate bag, this will be counted as an additional bag, and will incur an extra fee.
The maximum weight is 23kg, and bags that weigh more than this will be charged at a higher rate. You can learn more here.
Emirates
Emirates' website states that ski equipment may be carried as part of your standard baggage allowance. However, some extra fees may be charged when you're checking them in – passengers should contact their local Emirates office to find out more.
Keeping your equipment safe
Staying well protected on holiday should always be a priority, especially if you're going to be undertaking sports like skiing, which come with a certain amount of risk. Insuring your holiday (and equipment) offers valuable peace of mind, ensuring that you're not caught out when you're meant to be enjoying yourself.