Our Favourite Crowd-Funded Gadgets
Once again, we've scoured the major crowdfunding sites, to find the very best devices and gadgets out there right now. If you're searching for exciting, innovative technology, check out these inspiring offerings below.
The top crowd-funding gadgets
See Sense AIR – a new way to protect and recover your bike
Few things in life are more frustrating than having your bike stolen, and sadly, it's a common occurrence in the UK. See Sense AIR have created a device that combats the problem. Using narrowband-IoT technology, it alerts you (via your phone) if the bike has been stolen. It also sets off an alarm in 'fight' mode (to deter would-be thieves), and the data can be forwarded to the police, to assist with retrieving the bike if it does get stolen.
See Sense AIR has a battery life of around three months, which means it can be left on the bike without having to constantly charge it. At the time of writing, it's already smashed through its goal of £18,000, with over 500 backers. There's still some time left on this one, so get in quick if you're interested.
DIVEROID – Bring your smartphone on your next diving adventure.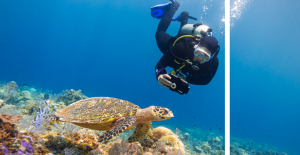 (Image Credit: Diveroid)
In the past, divers wanting to film their expeditions beneath the waves had to invest in expensive cameras and protective housing. Now, one inventive company have come up with a cost-effective solution. DIVEROID is a 'one-size fits all', all-in-one dive computer, underwater camera and log book.
It's compatible with any smartphone, and provides useful information, such as depth, duration, and speed of ascension. The device also gives advice on how to stay safe during the dive. The camera functionality features a range of clever functions, like real colour correction and ultra-wide angles.
So far, the campaign has been enormously popular on Kickstarter. The original target was £7,741, but at the time of writing DIVEROID's fundraising total is £86,563. There are still some more days to go, which means there's time to make a pledge if you're a keen diver.
PrinCube – The tiniest portable printer in the world.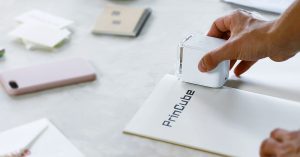 (Image Credit: PrinCube)
PrinCube is a mere 160g (including the ink cartridge), and measures in at just 72x51x68mm. This makes this palm-sized printer officially the smallest colour printer in the world. It's fully portable, and works by being moved slowly across the surface you'd like to print on.
Impressively, this tiny gadget doesn't just work on paper. It can be used on a huge range of surfaces, including uneven or bumpy ones, like fabric. PrinCube even works on clothing, and can be used to create temporary tattoos; ideal for those who don't want to commit to the real thing!
It's easy to use too – it just needs to be connected to a smartphone or laptop via WIFI, then a simple scan of the QR code provides access to the dashboard. Upload the pattern you want to print, then click to start.
The campaign has now finished, and the team are busy transforming the prototype into a finished product. All going to plan, it should be available to buy in the near future.
Smart Halo 2 – the easy way to navigate a route to your destination.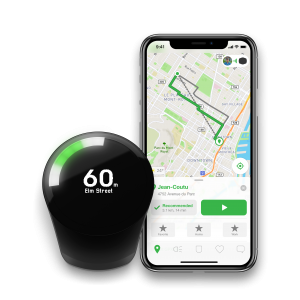 (Image Credit: Smart Halo)
Many cyclists rely on their phones to map out their route. However, in order to look at the map, they either have to stop by the side of the road, or glance while riding, which isn't very safe.
Smart Halo 2 resolves this issue. It's a connected gadget that provides straightforward, easy to understand navigation. With its turn signals, it directs cyclists without being too much of a distraction. As an added bonus, the device also has an anti-theft alarm, which offers your bike added protection from thieves. It comes with a front light, and a monitoring system that reports important metrics like distance travelled, speed, and calories burned.
It's currently available to pre-order at $119, and is an ideal gift for keen cyclists who like to stay safe while out exploring.
Flok Tracker – a GPS tracker with more coverage, and better battery life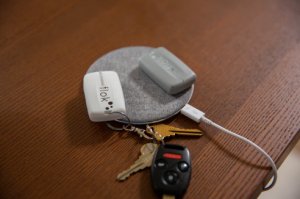 (Image Credit: Flok Tracker)
Flok Tracker is a tracking device with a difference. It features full mobile connectivity, wireless charging, motion sensor, instant notifications and more. It's also got a battery life that's 10 times longer than a standard GPS tracker, and it has 30% better coverage too.
The ultra-accurate tracker can be used to track belongings if they go missing, and is also suitable for pets. It can be easily attached to most things, including scooters, car keyrings, collars, handbags and boats. The Kickstarter campaign has already reached its goal, but there's still time to get involved and secure a Flok Tracker for your valuables or furry companions.