Tech Start-Up Focus – Click and Grow
Sustainability is becoming ever more important right now. Increasing numbers of people are concerned about their impact on the planet, and this includes innovators too. This month, we'll be focusing on a company that's on a mission to bring fresh herbs and plants into the home, minus the plastic packaging from the supermarket. Their clever device not only minimises waste, but uses less water and energy too.
Who are Click and Grow?

(Image credit: Click and Grow)
Click and Grow are an Estonian company, formed in 2009 by Mattias Lepp. He was inspired by a NASA article that he'd read (detailing how to grow plants in space), and wondered if it would be possible to achieve the same on planet Earth, while reducing the work associated with traditional cultivation.
The company enlisted the help of universities around the world to fine-tune the design of their innovative growing system. In 2012, Click and Grow launched their first Smartpot, then a year later, they developed the prototype for their second-generation 'garden'. This was followed by Smart Herb Garden in 2014, and finally, Smart Garden 9 in 2017.
The aim of the system is to enable users to grow plants in the home all year round, without needing any specialist gardening tools. The product takes care of all watering, light, and provision of nutrients, which leaves growers free to enjoy their plants, minus any hard work.
What does Smart Garden 9 do?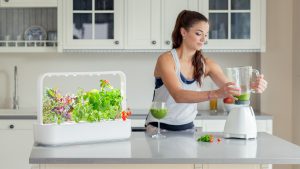 (Image credit: Click and Grow)
The Smart Garden 9 is slightly larger than a bread-bin, and looks somewhat like a rectangular basket, with an area for the plants to grow in, and a row of lights positioned above.
The seeds are planted inside it (via specially designed biodegradable pods, which look similar to coffee-capsules for Nespresso machines). The Smart Garden 9 then takes care of growing the plants, using an automatic watering system, pro-grow lights, and nutrients and oxygen at root level.
Click and Grow offer over 50 pre-seeded pods for the system, so users can select from a vast number of different herbs, fruits and flowers. These include:
Basil, parsley, sorrel, oregano and other herbs
Sweet pepper, tomato, wild strawberry and other fruits
Kale, lettuce, pak choi and other salad leaves
Petunia, moss rose, lavender and other flowers
For larger households, there's also the new Smart Garden 27. This pack includes
three Smart Garden 9s, plus a wooden stand to hold them all.
How does it work?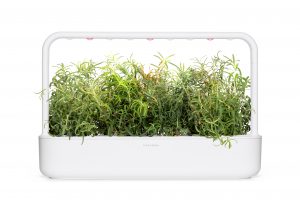 (Image credit: Click and Grow)
Smart Garden 9 creates the ideal environment for seeds to grow in, thanks to 'Smart Soil'. This specially developed soil was inspired by NASA's own technology, and is designed to release nutrients exactly when the plant needs them most. It also maintains the right pH levels, and provides small amounts of oxygen to ensure the plants can breathe, even if the soil is damp.
This works alongside the LED lamp, which is positioned directly above the plants. The enhanced light kickstarts the growth cycle, which means speedier results for users. Despite the use of this technology, the entire process is natural, and free from any harmful substances.
Who is the target audience?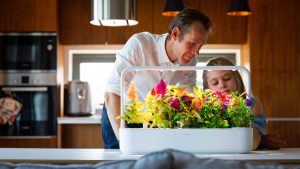 (Image credit: Click and Grow)
Click and Grow's target audience is anyone who is interested in growing their own produce at home. This includes:
Those who don't have any outdoor space, but who still want to cultivate home-grown edibles or flowers.
Those who like to have herbs, fruit or salad leaves to hand whenever they need them.
Families who want to educate their children on how plants grow.
Those who are environmentally conscious and want to reduce their plastic waste by growing at home (the pods are biodegradable, and the system uses 95% less water than traditional agricultural growing. Also, the system has low energy consumption).
Those who are time-short, and don't want to go to the supermarket too often.
Why do they matter?
Click and Grow are offering users an easy way to grow their own edibles, minus any of the hassle associated with conventional cultivation. The system is simple to use, doesn't require much maintenance, and delivers quick results.
However, there are bigger implications for the future. The company's Smart Farm concept seeks to introduce the system to public places, offices and schools – it's basically their Smart Garden 9 system, but on a more ambitious scale. Smart Farm would dramatically reduce food waste by enabling users to take only what they need. They'd be easy to manage (so no extra staff would be needed to care for the plants), and less water and energy would be used during the cultivation process.
This could mark the start of a sustainable food revolution; both in the home and further afield.