Tech Start-Up Focus – Artiphon
Sometimes, innovators take an old concept, and turn it into something fresh and exciting. This month, we're focusing on a company that does exactly that – taking the idea of a 'one-man-band' to create a single interface that plays multiple instruments. It's one of the easiest ways to create professional, polished music, without a single other person being involved in the process.
Who are Artiphon?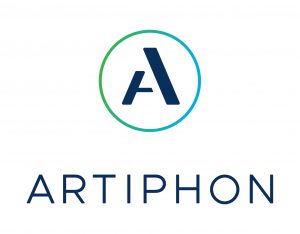 (Image Courtesy of Artiphon)
Artiphon was founded by Dr. Mike Butera, back in 2011. He's an expert in the field of acoustics, with a Ph.D. in Sound Studies, and prior to setting up Artiphone, he toured the US as a multi-instrumentalist. His background as a consumer electronics designer also came in handy.
Dr. Butera's knowledge of the phenomenology of listening was what drove him to design INSTRUMENT 1, which is capable of producing multiple instrument sounds, with several musical gestures. INSTRUMENT 1 was first launched on Kickstarter, and went on to become the most successful crowdfund for a musical instrument in the world.
Its popularity hasn't diminished since then, and the accolades keep coming in. INSTRUMENT 1 was awarded Best in Show (NAMM), and named one of TIME Magazine's Best Inventions of the Year.
What does INSTRUMENT 1 do?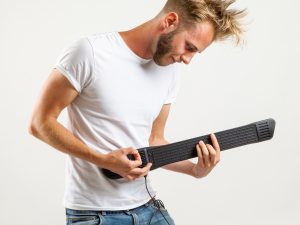 (Image Courtesy of Artiphon)
INSTRUMENT 1 is a fully portable device, which resembles the neck of a guitar, with some added controls at one end. However, while it produces guitar sounds, it's much, much more than that. Users can switch from a guitar, piano, set of drums or violin simply by pressing a button, and the user presets enable them to mix and match the modes, plus the tunings, methods and sounds.
The clever gadget features two stereo speakers, which combined, are as loud as an acoustic guitar. The main fingerboard is also fully pressure-sensitive, which means that players can modulate the effects, even after a note has been activated with continuous aftertouch.
INSTRUMENT 1 can be connected directly to iOS, and is MIDI MPE compatible. Its battery lasts all day, which is useful when out and about. And, it's officially the first MIDI controller that lets users drum, strum, tap, bow and slide any sound they like, on a single interface.
How do you use it?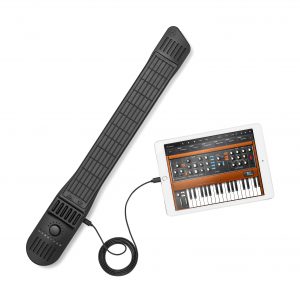 (Image Courtesy of Artiphon)
It's relatively easy to master INSTRUMENT 1 (and even more helpfully, there are guides on Artiphon's website). The gadget works with literally hundreds of music-making apps and software, across a range of devices. This includes: iOS, Mac and Windows, and the technology works with Logic Pro X, Ableton Live, GarageBand and many more.
Firstly, you'll need to register your device, then connect it to your iOS device. After that, it's simply a matter of experimentation – testing out the capabilities of INSTRUMENT 1, and working out which app or software is best for your specific needs.
INSTRUMENT 1 comes with four presets:
Smart Strum – which is used by pressing a finger on one of the twelve pads, then strumming the bridge to make a chord.
Slide Sax – which lets users slide their finger along the fingerboard to play a fretless saxophone.
Electric Piano Tap – which works in a similar way to Slide Sax, but is fretted, ensuring everything is in tune.
Arp Vibes – which is an arpeggiated mode – by tapping then holding notes, the device automatically loops through them.
There are several different settings on the device, enabling users to adjust things like velocity output, capo step size, pitch, hammer-on sensitivity and much more. Once you've mastered the basics, you'll be able to start creating your own music.
Who is the target audience?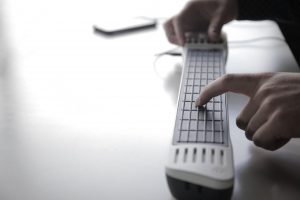 (Image Courtesy of Artiphon)
In short, the target audience is anyone with a love for music. Many professional musicians use INSTRUMENT 1, such as Kelly Janae, a celebrated hip-hop guitarist, and Annie Shred, a musician working in Los Angeles.
However, it's not just for professional use; the design of the interface means that it can be used simply (to create guitar sound, for example), or in a much more involved, complex manner.
Why do they matter?
Artiphon have created a gadget that's not only a sophisticated update on the 'one-man-band' concept, but that can also be used in a variety of innovative and exciting ways. It's adaptable too, and is just as well suited to the beginner as it is the music pro.
Unsurprisingly, the company managed to secure investment from WMG Boost, which is Warner Music's seed fund for start-ups.
The Head of Innovation & Emerging Technology (SVP, Global Digital Business Development) at WMG Boost commented: "Artiphon is a strong example of the types of companies and products we seek to support. They've already expanded the concept of the musical instrument as a smart, connected device and we're excited to help them drive the future of interactive music."