6 Ways to Keep Your Valuables Safe While Travelling
Going on holiday is the highlight of most people's year – a chance to escape work for a while and enjoy some sun and serious exploration. However, the dream can swiftly descend into a nightmare if your belongings get stolen, lost or damaged.
Thankfully, there are ways to keep your stuff safe and secure while you're travelling. Here are just a few tech products that could come in useful.
Gadgets that help keep your belongings safe while on holiday
Wallet tracker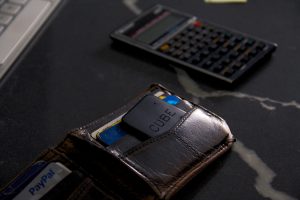 Image Credit: Cube
It's a horribly easy scene to imagine. You're at a bar with friends, you place your wallet or purse on the counter, then a second later, it's gone. This can really put a dampener on the holiday mood, especially if it contains your bank cards, driving licence and other important items.
A GPS tracker, such as Cube Shadow, can be easily slipped inside your wallet, and held in place using the adhesive pads. Via the app, you can then see exactly where your purse's last known location was. This is useful information that you can pass on to the authorities.
If you suspect that you've just dropped your wallet somewhere, you can use Bluetooth connectivity to track it down – the Cube will even ring when you're close.
Smart suitcase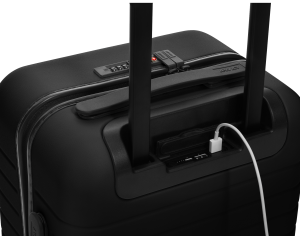 Image Credit: Away
When you're travelling, your suitcase or backpack is always going to be a magnet for thieves. A smart suitcase not only features some useful gadgets and features, but usually comes with some good security measures too.
For example, Away's carry on suitcase is not only lightweight and robust; it's also fitted with a TSA-approved lock, which is very visible on the exterior. This is an excellent deterrent for those thinking of sneaking off with it when your back is turned. The two zips attach to a combination lock, making it virtually impossible to access unless you know the code. It also has a handy battery pack; in case you need to give your phone an emergency boost of power.
Speak and Translate app
If the worst does happen and your belongings get stolen, damaged or lost, it's useful to be able to do something about it, as soon as possible. However, in other countries, language can often be a barrier.
The Speak and Translate app (available on iOS and Android) is an instant voice and text translator, which has a convenient offline text to text mode, and an online speech to speech mode. It's a great way to get the message across, and get the help that you require.
GPS personal alarm
If you're travelling solo, or going somewhere remote or somewhat dangerous, investing in a GPS personal alarm is a sensible idea, not just as a way of protecting your belongings, but for keeping yourself safe too.
TechSilver's Personal Alarm and GPS Tracker is a good option, as it features an SOS alert button, that then enables people to locate you, wherever you are. It works on a pay-as-you-go basis, and doesn't require frequent charging, which is especially useful if you're heading out into the wilderness.
A phone leash
It's worryingly easy to damage your phone. All it takes is an accidental drop from your balcony, and voila, it's completely beyond repair. Insurance comes in really handy in these situations, but it's even better if you manage to avoid breaking your phone in the first place.
A phone leash, like this one from Wet and Wild, features a clip and a bungee cord. If your phone slips out of your pocket, the phone will simply spring back up, without hitting the floor. It also makes it a lot harder for thieves to steal it without detection, and ensures that it stays on your person (rather than being accidentally left on a café table somewhere).
Bluetooth portable lock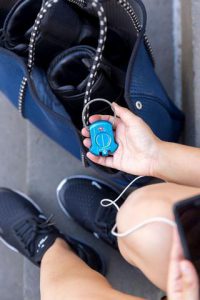 Image Credit: AirBolt
Whether you're off to Ibiza with friends, or backpacking around outer Mongolia, a portable lock is always useful. There will inevitably be times when you'll need to leave your belongings somewhere while you take part in an activity or go out, and a lock ensures that they're well protected.
The Airbolt Bluetooth Lock lets you control access via your smartphone, and even sends you an alert if someone tries to steal your things. Also, if someone strolls off with your stuff, the app will notify you of where it was last seen. It's got an impressive battery life, and can last up to a year without requiring a charge.