Tech Start-Up Focus – Loog Guitars
Across the world, inventive start-ups are tackling issues by harnessing the power of technology. In this article, we're exploring how Loog Guitars make learning an instrument easy, even for very young children. It's a fascinating case of how simplifying a process can deliver excellent results.
Who are Loog?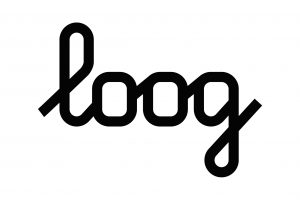 Loog's guitars are designed to help children learn to play the instrument quickly and easily. The concept was originally developed by Rafael Atijas, as part of his Master's thesis at New York University. His aim was to create a product that wasn't just a money-spinner, but that delivered something of real value, with a great design.
The company launched its first guitar in 2011, via Kickstarter. Impressively, they managed to raise $65,618 to get the product up and running. Six years after, they ran another crowdfunding campaign to develop the new line-up of guitars; this time raising $370,000. This officially made Loog Kickstarter's bestselling guitar ever.
Loog are not only focused on innovation and education; they also care about sustainability. All the wood used to create the guitars comes from responsibly managed forests – something that's important in these eco-aware times.
What are the guitars like?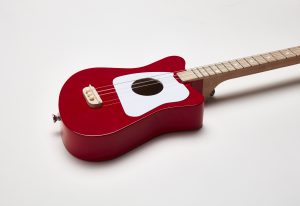 In appearance, Loog's guitars look very much like adult electric and acoustic guitars. They come in a range of different colours, including child-friendly shades like bright red, yellow and pink, and there are three different variants. These are:
Loog Mini – the smallest guitar, suitable for very young children (three years upwards)
Loog Pro Acoustic – their standard size, acoustic model (eight years upwards)
Loog Pro Electric – their standard size, suitable for use with an amplifier (eight years upwards)
Loog also supply several accessories, such as playfully designed carry-cases, stands, tuners and wall hangers. Most importantly of all, there's also an accompanying app, which is free to download in the Apple Store and via Google Play.
How does it work?
Loog observed a major problem with existing guitars for children. They were small enough for the child to hold, but because they still had six strings, the neck was usually too wide for a little hand to wrap around it comfortably.
The only other option at the time was to play a ukulele instead. But the big issue with a ukulele is that it's a totally different instrument to a guitar, with its own tuning and a different sound. As such, Loog decided to create a third, better option – a scaled down guitar, with three strings instead of six.
Amazingly, any song can be played on a three-string guitar, as most chords usually don't comprise of more than three notes. This means that children can learn to strum along with their favourite songs, without struggling to manage six strings at a time. In fact, they can reference any chords (online or in books) and play the chord on their three-string guitar – simply by focusing on the first three strings only.
Everything that's learnt on a Loog guitar can be translated to a standard six-string guitar at a later date. According to the company, it's a smooth, natural transition. It's important to note that the guitars aren't restricted to children. They can be used by adults too.
What about the app?
The accompanying app is a good place for children to start learning how to play their instrument. It features:
Video lessons
A tuner
A digital songbook, covering songs by artists such as The Beatles, Taylor Swift, Bruno Mars and more
It's aimed at kids, featuring fun cartoon monsters who demonstrate how to form the chords. Once the chords are mastered, they can be used to unlock songs, so there's a real sense of achievement and progression.
Who are the target audience?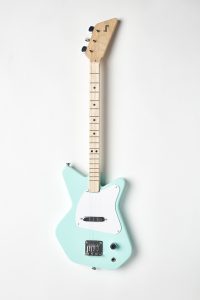 Although they predominantly target children, Loog's guitars are custom-made for anyone with a desire to learn how to play. Some schools have already invested in a set of guitars, and taught entire classes how to strum along to music.
Additionally, the company also provide certification to instructors, then recommend their services to others.
Why do they matter?
These guitars are a great example of how technological innovation can be used in a fun, inventive way. Loog's guitars are not only functional and easy-to-play; they also look great and are well-constructed, which means a child is far more likely to stick with playing it.
The incorporation of an app provides structure to the learning. As most people know, it's hard to master an instrument, which is why so many people quit before they really get going. Loog's guitars may have identified a way to address this issue, and get more kids (and grown-ups) into music.