Tech Start-Up Focus – Loop Earplugs
It's always fascinating to hear about how start-ups are challenging the status quo – using technology to offer something genuinely innovative to their customers. This month, we're focusing on a company called Loop. Their aim? To reduce ear damage caused by excess noise, without affecting clarity of sound; and to create an accessory that not only performs well, but looks great too.
Who are Loop?
Loop was conceived after one of its founders, Maarten, returned from a noisy party with a nasty case of tinnitus. The ringing in his ears drove him mad for several weeks, and he strove to develop a solution to this annoying problem.
He teamed up with Dimitri, who had always used earplugs when attending loud social events. They focused on creating an earplug that not only protected the ear against noise damage, but also looked great too.
Alongside the University of Delft, Dimitri and Maarten began making and testing prototype earplugs. It took over 30 attempts to get it right. Now, Loop is a team of four, and is part of Start-It, which is Belgium's largest start-up incubator.
What are the earplugs like?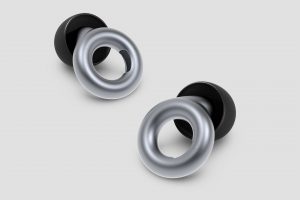 (Image Courtesy of Loop)
Loop used 3D print technology to refine the final design; a small, circular device that fits neatly inside the inner ear. The earplugs come in a range of colours; black, silver, gold, rose gold and 'raving red'. They protect the ears from loud music and speech, without affecting the quality of the sound. This is thanks to the round acoustic channel and filter inside.
The tips are constructed from memory foam, or alternatively, silicone ear tips if preferred. This makes them comfortable to wear. Perhaps most importantly for millennials, the earplugs look very fashionable – almost like a new way of wearing an earring, or plug for a piercing.
Each pair of earplugs comes in a little pouch, with three pairs of silicone ear tips (small, medium and large). There are three pairs of memory foam ear tips included too (again, in small, medium and large).
How do they work?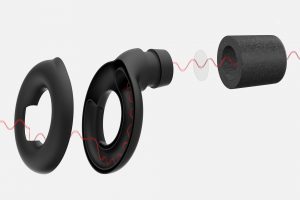 (Image Courtesy of Loop)
Loop identified that the big issue with most earplugs was that they blocked sound out, which affected the quality. With their earplugs, sound travels through the small opening, then passes through a hollow acoustic channel. This ensures that the sound quality remains excellent.
They identify three stages of functionality:
Acoustic resonance. The sound waves enter the Loop device, then move through to the hollow channel. This is an acoustic resonator, which mimics the ear canal itself, with a quarter wavelength resonance at 2700 Hz.
Advanced filter. There is a filter at the end of this 'sound tube', which lowers all the frequencies by an equal margin. Each filter is installed at a laboratory, using UV light technology to ensure there's no leakage.
Ear canal seal. To fully protect the hearing, the ear canal must be sealed. This is achieved with ear tips. Loop's ear tips are made from soft silicone or memory foam, which adjust to the user's unique ear formation.
Who is the target audience?
Loop earplugs were primarily designed for people visiting nightclubs and loud events (like music gigs). However, there are several other people who might benefit from them, including:
Musicians and performers
Nightclub workers
Bar workers
Concert-goers and staff
Cinema attendees
People attending motorbike events
People who ride motorbikes
People attending sporting events
Concert photographers
Those working in travel (e.g. near loud aeroplanes)
Ultimately, anyone who suffers from ringing ears after being in a loud location is likely to benefit from this innovative technology.
Why do they matter?
Irreversible ear damage can occur through exposures to sounds as low as 85db. This is alarming, especially when you learn that music events regularly reach sound levels of around 100db. Loop's earplugs reduce 20db sound reduction on all frequencies, which means that those damaging noise levels are brought down.
This is important as it directly tackles a major cause of tinnitus and hearing loss. It doesn't mean that festival-goers or nightclub workers have to wear large, cumbersome earplugs over their ears either, as Loop's devices are discreet (and attractive). This makes them far more appealing to the younger market.
Better protected ears mean fewer cases of hearing damage in the future. That in turn reduces the pressure on the NHS in the UK (and health services in other countries too, as the product is available around the world). It also means that people can enjoy listening to the sounds they enjoy for longer. Taking preventative measures for your health is far better than retrospectively tackling a major problem.