Samsung Vs iPhone – Where Do You Get Best Value for Money?
The ongoing Samsung versus iPhone debate is one that is both closely and passionately fought. There are endless expert and user discussions about each one's latest hardware and respective operating systems of Android and iOS. Every new model of smartphone tends to offer slightly different features to its competing model. As such, it is often difficult to be conclusive when comparing the two giant brands. For example, one poll by an online debating platform shows that 49% of voters think Samsung is better, while 51% think that iPhone is better. Another has Samsung at 51% and iPhone at 49%. It's clear that the iPhone versus Samsung debate is split down the middle.
Unfortunately, this doesn't make it any easier for the modern smartphone user to decide which manufacturer gives them better value for money. To add to consumers' woes, smartphones are getting more and more expensive. The Samsung S8+ has an RRP of £779 while the iPhone 8+ retails at £799. As smartphones reach new, dizzying heights in terms of end user cost, consumers face a tough choice between the big manufacturers. The ongoing Samsung versus iPhone debate will undoubtedly become increasingly important in the decision-making process.
While some expert reviews sit firmly on one side of the fence or the other, many take the diplomatic approach and conclude that it depends on whether the consumer prefers Android or iOS. We reckon that's chickening out. So let's delve behind the scenes to discover what the manufacturers pay for individual components and how that's reflected in the cost to the consumer. By using this unique approach, we will be able to see conclusively which smartphone giant wins this epic battle – for the time being, at least!
Will Samsung or iPhone give me the most value for money?
With such eye-watering price tags on the latest smartphones, the burning question on many consumers' minds is: which brand provides the best value for money? We've dug deep to find out exactly what it costs Samsung and Apple to produce their Galaxy S8+ and iPhone 8+ phones, revealing their precise spends on individual parts like screen, cameras and processor. We've also crunched the numbers so you don't have to, giving you a factual and objective take on the value for money each manufacturer offers.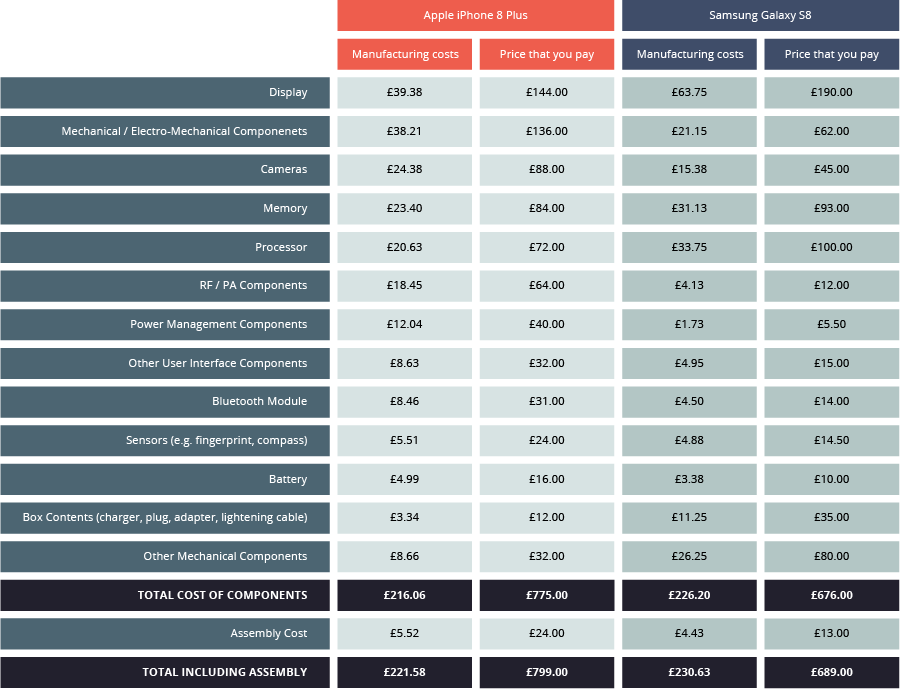 Display
The display is arguably the most important feature of a smartphone. There's no point being able to take great photos or watch videos if the screen's pants, right? It's certainly the main focal point for both Samsung and Apple. Samsung spends a whopping 27.5% of its total manufacturing cost on its Super AMOLED screen, which has an impressive pixel density of 529ppi. With the iPhone, the display is still the most expensive component, but it only makes up 18% of Apple's manufacturing cost. The iPhone's screen is IPS LCD with a pixel density of 401ppi. Higher pixel density means better clarity, and the Galaxy S8+ also has a higher resolution than the iPhone 8+. In terms of screen technology, it's down to personal preference. AMOLED is known for its bright colours and true blacks and IPS LCD its natural colours and sharpness.
As you'd expect, the markup by both brands to the consumer is extortionate. Samsung spends £72.04 on its display but when you calculate 27.5% of the RRP, you find that it's charging the end user £215.50. Apple spends £39.38 on its iPhone screen, but 18% of the RRP means that the end user is paying £144. Double ouch.
Cameras
Another major point for consumers is the quality of the cameras. These days, we're constantly snapping everything from our lunch to our pet pooch – and let's not forget about our obsession with selfies. Samsung has a reputation for producing better cameras, but strangely, this trend seems to have changed with the S8 and S8+ models. Spending only 6.5% of the budget on cameras compared to iPhone's 11%, there's also a significant difference in price. The S8+ has cameras that cost £17.38, with an end user price of £50. In contrast, the iPhone's cameras cost £24.38 with a consumer cost of £88. It's quite likely that Samsung's superior screen disguises its cheaper cameras. However, smartphone reviewers have already cottoned onto the fact that in this round of the Samsung versus iPhone debate, the iPhone wins.
Processor
With all the fancy features a modern smartphone offers, it needs a decent processor to keep things running smoothly. Samsung's Galaxy S8+ has an Exynos 9 Octa 8895 chipset. This boasts an octa (eight) core processor comprising: 2.3 GHz, Quad core, M2 Mongoose + 1.7 GHz, Quad core, Cortex A53. Samsung spends £38.14 on its processor, which is 14.5% of its budget. The consumer pays £113.
Apple are notoriously cagey about the specifics of their processors, but don't worry – we tracked down the specs of its latest A11 Bionic chipset. It's a hexa (six) core processor which comprises: 2.53 GHz, Dual-core, Monsoon + 1.42 GHz, Quad core, Mistral. The processor contributes 9% of the manufacturing cost at a price of £20.63 to Apple and £72 to the consumer.
Other significant components
Mechanical and electro-mechanical components are particularly significant when it comes to costs. These parts cost Samsung £53.56 and make up 20.5% of the overall manufacturing bill. They are Samsung's second largest expense after the display. The end user pays £160. In contrast, these components contribute 17% to Apple's total manufacturing bill at an expense of £38.21. This is passed onto the consumer at a cost of £136.
Memory is also significant in terms of both performance and price. Samsung gives its 4GB of RAM 13.5% of the budget, costing £35.18. This translates to a cost of £105 to the end user. Meanwhile, Apple spends £23.40, or 10.5% of its manufacturing cost on the iPhone's 3GB of RAM. This is passed on to the consumer for £84.
Some of the fancy features like fingerprint recognition, accelerometer, gyroscope and compass, don't cost as much as you might think. Samsung and Apple both spend only 2% of the budget on sensors, costing the manufacturers £4.88 and £4.99 respectively. The cost to the consumer is not too painful at £16.50 with Samsung and £16 with iPhone. Both manufacturers spend 1.5% on the battery, with Samsung paying £3.82 and Apple, £3.34. The consumer pays £11 with Samsung and £12 with iPhone.
Samsung or iPhone – who wins on quality?
We've talked about price, but we need to discuss the actual quality of the components. We've already established that the Samsung has a better screen than the iPhone, so that's one point to Samsung.
Despite Samsung's Galaxy S8+ having an 8MP front camera and the iPhone 8+ having a 7MP front camera, Samsung's lesser spend on this component might mean it's not quite as good. Although expense is not necessarily an indication of quality, the Samsung front camera has an F1.7 aperture while the iPhone has an F2.2 aperture. In terms of taking good photos, an F1.7 aperture has a more shallow focal area, so you'll get a crisp central object with a blurry background. An F2.2 aperture has a wider focal area, so you'll get a sharper background as well as a crisp central object. It's also got an extra shooting mode. That means iPhone wins on camera quality.
When it comes to the processor, Samsung's octa core chipset certainly sounds beefier than the iPhone's hexa core. However, iPhone also has a coprocessor, and performance reviews indicate this gives it more oomph than the Samsung. The iPhone's coprocessor takes care of all the sensor data, enabling accurate voice commands, fitness and location tracking. Another score for iPhone.
The iPhone's always been known for its short battery-life, and Apple doesn't seem to have stepped it up with the 8+. It has a 2,675mAh battery compared to Samsung's 3,500mAh, and that's all we need to know to establish Samsung's the winner on battery quality.
When it comes to the other significant parts like mechanical components, memory, sensors and battery, both manufacturers are on even footing. There's not much difference in percentage of expenditure or cost to the end user. Therefore this one's a draw.
Our findings indicate that some components are better quality with Samsung, like the display and the battery. However, the iPhone has superior cameras and processing power, which we think are more significant. Overall, iPhone is the winner based on quality alone.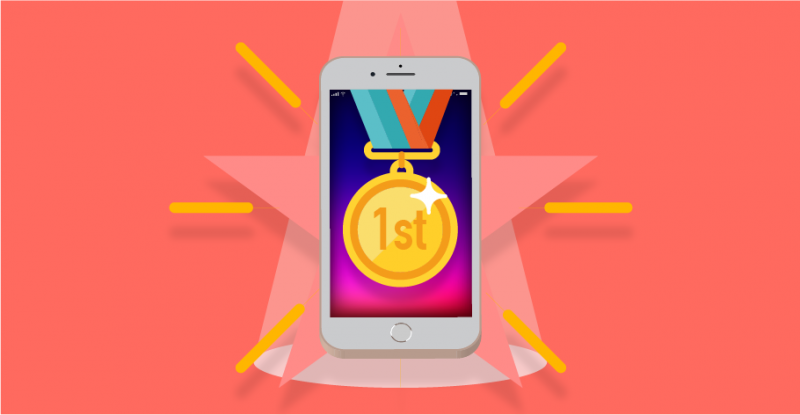 What does the Samsung versus iPhone debate mean for smartphone users?
Samsung certainly excels in some areas and its top feature is definitely its screen. However, we've taken everything into consideration, and we know where you get the best value for money. And that's with iPhone.
The iPhone's display is not quite as good as Samsung's, but when it comes to other features, Apple has clearly put a lot of thought, technology and money into its components. The iPhone might have a shorter battery-life, but its intuitive camera features and dual processing system are second to none. Apple have spent their budget wisely, concentrating on the technology behind the funky features to ensure smooth, powerful operation. Yes, it's saved a bit of money on components like the screen and memory, but that doesn't detract from overall performance. If you want value for money, the iPhone speaks for itself.