The Best Waterproof Gadgets for Your Next Holiday
Holidays should be all about unwinding by the pool, or splashing around in the sea. However, that sense of relaxation soon disappears when you realise you've accidentally damaged your gadget in the water. This is especially the case if it's expensive to replace and you haven't got the right insurance to cover it.
One great way to avoid this added stress on holiday is to invest in a low-cost insurance plan. However, we'd recommend going one step further, and buying some durable waterproof gadgets for worry-free fun in the pool.
The best waterproof gadgets for your holiday
Kobo Aura One
Picture the scene. You're lounging on your lilo, reading the latest bestseller on your eReader, when suddenly, a friend decides to knock you into the pool. Voila – one ruined device, and no more books for your getaway!
Avoid this calamity by purchasing a waterproof eReader, like the Kobo Aura One. It can withstand submersion of up to two metres depth, and can be held underwater for up to one hour – great for those moments when you drop it, then spend a while diving to pick it up!
Monster Backfloat speaker
If you're renting a villa with the family, you'll want to create a party atmosphere by the pool. However, trying to listen to music via your smartphone won't really cut it – especially if someone knocks your phone into the water by mistake.
Buying a waterproof Bluetooth speaker is a much better idea. The Monster Backfloat Speaker not only produces good quality sound; it also floats on the surface of the pool. If it gets a little wet, it doesn't matter – it's built for use in the water. Best of all, it's fully portable and won't take up loads of room in your suitcase.
GoPro Hero 7
Part of the fun of being on holiday is capturing photos to share online. While your trusty smartphone probably comes with a high-performing camera, chances are that it won't be able to take snaps under the sea.
The GoPro Hero 7 is not only durable, it's also waterproof up to 10 metres. This means you can do more than take photos just below the surface. You can also use it to catch images on your next diving adventure too (providing you don't go down too deep). The time-lapse video function is another appealing aspect – letting you film long sections of footage, then condense it into a fast-paced video.
Apple Watch Series 4
Apple's fourth generation watch has already received rave reviews from countless online publications. However, not many people know that it's water-resistant up to 50 metres, which means it can be worn while swimming in the pool or sea. It's also a great way to stay on top of your work-outs while you're away – if you're a fitness fan, this is a serious advantage.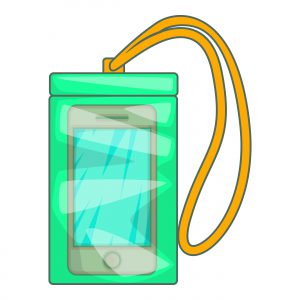 Preventing gadget damage while on your holidays
There are several steps you can take to make sure your valuable gadgets don't get damaged while you're enjoying your getaway. These include:
Buying waterproof covers or protective pouches. No-one likes leaving their smartphone on the beach while they have a swim in the sea. Take it with you in a waterproof pouch instead.
Planning beforehand. If you know you're going to be in the water during the day, take some time to think about what to do with your tech devices. It might be better to leave them somewhere safe (e.g. stashed in your hotel room) instead of taking them with you.
Get insured. Worrying about damaging your gadgets can put a dampener on your holiday. An insurance package means that you don't have to worry if the worst does happen. Sure, it's annoying if your iPad suddenly slides into your pool, but at least if it's insured, you won't be forced to fork out hundreds of pounds to replace it.